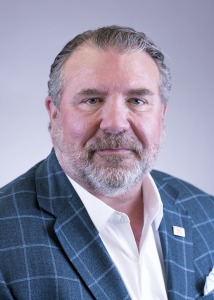 Bill Schonacher is the President & CEO of IBC Bank- Oklahoma. With 29 years of banking experience, more than half of it with IBC Bank, Schonacher is a seasoned banking veteran who brings a deep understanding of commercial lending, business services and retail banking to the Oklahoma market. In his current role as President and CEO, Bill directs all aspects of the bank's network, which includes 46 locations that serve 30 cities in 20 counties across the state of Oklahoma and North Texas. This includes locations in Oklahoma City and Tulsa metro areas, Lawton, surrounding rural communities and the Dallas Metroplex.
Schonacher was named the CEO of IBC Bank-Oklahoma in June 2014, previously serving as President of IBC Bank's Tulsa Region since 2004. His expertise and vision enhance IBC Bank's role in the state's growth in oil and gas exploration, construction, manufacturing and business services.
Community involvement is a key component of IBC's "We Do More" philosophy which Schonacher supports through his volunteer efforts as Chair Elect of the State Chamber of Oklahoma, Chairman of the State Chamber Research Foundation, Vice Chairman of the TSET Board of Investors, Board Member of the Greater Oklahoma City Chamber of Commerce, Oklahoma Hall of Fame, United Way of Central Oklahoma, Leadership Exchange Academy Board Member, National Trustee of the Boys and Girls Clubs of America, and Forward OKC IV and V Steering Committees. Previously, Schonacher has served as a trustee of the Texans CAN Academy, past president of the Tulsa Ballet, two-time past president of the Jenks Public Schools Education Foundation, three-time vice chair of the Tulsa Regional Chamber Resource Campaign, Allied Arts board member, and an advisory director of the Tulsa Regional Chamber of Commerce.
Schonacher earned his liberal arts degree from the University of Kansas. He and his wife Lynne have been married 32 years and have four grown children.