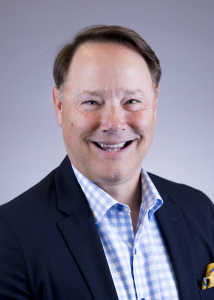 Allen Wright is president and founder of the Hustings Group, LLC., a full service public and government affairs firm. Wright began the Hustings Group upon retiring from Devon Energy as Vice President. Hustings is an old English term for a campaign platform, so the firm's mission is to provide the means for clients to express their ideas.
Wright brings over thirty years of government relations, public relations, crisis management, advocacy and philanthropic experience to his client's needs. Throughout his career, Wright has worked with a wide array of experts, associates and firms from across the nation. These experts are the "group" in Hustings, who specialize in all aspects of external relations; public opinion research, digital advocacy, lobbying and strategic charitable investment. This combination of experience and expertise well positions the Hustings Group to address the most challenging public sector needs and opportunities.
Prior to founding his company, Wright held senior executive positions at Koch Industries/Flint Hills Resources, and Devon Energy—spanning nearly 25 years.
Wright's public service includes working in political campaigns and high-level staff positions at the state and national government. This includes the 1984 Reagan-Bush and, the 1988 Bush-Quayle presidential campaigns, assistant to Gov. Henry Bellmon, administrative aide to Corporation Commissioner J.C. Watts and chief of staff to Congressman Frank Lucas.
Wright has a master's degree in political science from the University of Central Oklahoma and a bachelor's in political science from the University of Oklahoma. In 2013, Wright was honored as a distinguished alumnus of UCO.
He serves as a member of the following boards: Public Affairs Council, State Chamber of Oklahoma executive committee, Oklahoma Historical Society, Friends of the History Center, Oklahoma Hall of Fame, and the Cal Ripken Sr. Foundation, Baltimore, MD. He is a member of the OKC Rotary Club 29, and the Oklahoma Economic Club. Previously, Wright served on the U.S. Chamber of Commerce and Grand River Dam Authority boards.
Wright is a graduate of Leadership Oklahoma Class XXIX, he is a member of the Choctaw Nation and serves as an elder in the First Presbyterian Church of Edmond.
Wright and his wife Jacque enjoy their family that includes son Brookes and wife Emily, and son David. In his spare time, Wright enjoys hunting, golf and OU sports. Allen is a proud fifth generation Oklahoman, and the great-great grandson of Choctaw Chief Allen Wright (1868-72), who is credited with suggesting the name Oklahoma for the new territory created following the Civil War.